A few tips to keep your work fresh this year: flat design is out (kind of), serifs are in, and some rules are just thrown out the window. From abstraction of art to unconventional font pairings to oversized designs that fall off the page, the trends for 2019 all scream to be seen. Take a look at some of our favorite examples below and how you can use them in your work this year.
Large, High-Impact Typography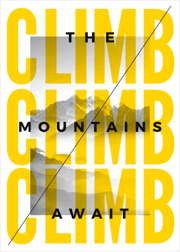 This year, typography is going big—literally and figuratively. Large-format, all-caps type will take over, and fun effects on this type (think metallic and 3D) boost the impact even more. In addition, we'll see typography get super involved in the design, playing an active role in interacting with the rest of the elements. Try mixing different font weights, experimenting with various type orientations and pairing unexpected fonts.
Image credit: PicMonkey
Abstract Art
Incorporating art into graphic design isn't anything new, but this year, look for more improvisation in this area. Doodles, freehand illustrations, and pieces with seemingly random strokes of color will take over—think "offbeat" over "accurate." This type of art focuses on the conceptualization of an idea rather than a realistic depiction. We'll also see this trend combined with other en-vogue graphic styles, like metallic effects and open composition.
Image credit: Pinch Studio
Photography + Flat Design
Flat design has been phased out over the last couple of years, but it's creeping back into the graphic design world in a new way this year. We're seeing designers experiment with an unconventional mixture of flat visual elements and real-life photographs, giving tons more dimension and interest to a standard photo or illustration. Look out for this unexpected trend on packaging, editorial features and websites.
Image credit: Refinery29
Asymmetrical Layouts
For the past few years, websites as well as printed graphics tended to utilize a clean, rigid, grid-based layout. We're starting to see a shift away from the templated look (think Squarespace) and towards more asymmetrical layouts that feel a bit more one-of-a-kind and alive. Asymmetry delivers more energy and movement, and when used in website layouts, it keeps the user curious, keeping the eye moving down and encouraging the scroll.
Image credit: Veintidos Grados
Glamorous & Plump Serifs
Shout it from the rooftops: serifs are back! That doesn't mean that sans-serifs are gone—they will always have a place, especially in digital. But serifs of all shapes and sizes will take over in placements where a "soulless" sans-serif just doesn't pack the right punch. Look out for gorgeous, fat serifs with tight kerning (think back to curvy and organic type of the '70s). We'll also see some that are more narrow and leggy—keeping with the art-deco resurgence that came about in 2018.
Image credit: Jack Watkins
Warm, Vintage Lighting in Photography
In a similar vein as the friendly, retro serif trend, we're seeing a love for vintage in photography as well. Graphic designers are beginning to incorporate more soft, moody photography into their creations, harkening back to days when cameras and screens weren't able to capture high levels of saturation. The end result is warm and nostalgic, creating a vibe that pairs perfectly with high-impact typography.
Image credit: Pinterest
Open Composition
More and more, designers are encouraging us to use our imaginations. Rather than putting a frame on a design to denote that it's finished, designers are increasingly creating more open, airy pieces that might cut off or only show part of the full picture. This trend creates a feeling of infinity and wonder, not unlike the asymmetrical trend we mentioned earlier. In 2019, we'll see lots of large, unrestricted compositions, particularly in web design.
Image credit: tubik via Dribbble