The Analytics Proving a Successful Social Campaign
Over the last month or so there been millions of impressions on thousands of creative videos, and social media has helped raise $100 million and counting for ALS research through the ALS Ice Bucket Challenge social campaign.
The objective of the campaign is simple – if you are nominated you have 24 hours to post a video of you dumping a bucket of ice water on your head, donate $10 to the cause, and nominate a few of your friends. If you can't fulfill the water bucket challenge, you should donate at least $100.
The initiative has lured submissions from Celebrities to Organizations to the Average Joe. The most obvious metric to measure for success is the amount of money that has been raised, but what we would argue is more important is the number of impressions - how many people were exposed to the acronym ALS.
As a digital marketers, our indicator of success of the campaign is all about spreading awareness for ALS via the Internet, educating the population about the disease and encouraging everyone to take a stand in spreading that awareness.
One common major criticism of the campaign is, "Pouring a bucket of water over your head simply doesn't do anything for the ALS cause." I saw this posted time and time again by different friends on my own Facebook wall, to which I had to hold myself back from sharing the graph below: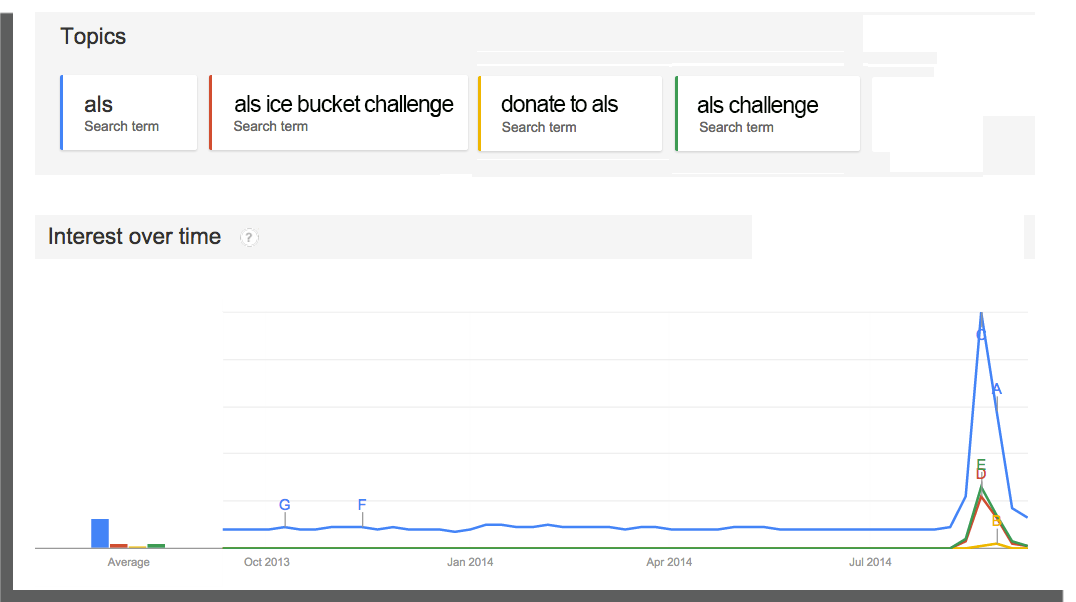 Google Trends is the perfect tool for analysis when it comes to gaging awareness, in fact it even takes it a step further and proves engagement. Whereas the previous 11 months of 2014 had shown relatively consistent low search volume, we can see almost a 90% spike in online search volume for ALS related keywords starting in August, right when the campaign launched.
It is apparent that there was an outside factor that increased general curiosity enough to encourage people to do more searches through Google for ALS related terms. The search query shown above also shows engagement for a few other key terms that showed increased search volume during this period in time such as 'donate to als'.
This type of data thrills us as Google Nerds. It is truly an anomoly to see a 90% increase in keyword search volume off of a social media campaign. In my opinion, the Ice Bucket Challenge has by far been the most successful social campaign that a non-profit has ever conceived and executed. I haven't yet run into someone who hadn't even heard of the ALS Ice Bucket Challenge, even if they still didn't know exactly what ALS is and that's where I come in, to explain the disease and spread the awareness
This is a cause that hits close to home for me personally which is why I am so intrigued by its performance. In High School I volunteered for the Extra Hands for ALS organization. I have seen what the disease is and what impact it has on not only the body, but also on the spirit and loved ones.
The internet has proven time and time again to be an exceptional tool for spreading awareness and education and as we continue to forge forward, I have no doubt that we will see more creative ideas and impressive results.
Three of our employees ended up getting nominated on the same night so we decided to do the ALS Ice Bucket Challenge as an organization and nominated a few of our clients – see AdVision's ALS Ice Bucket Challenge video here. GoSpotCheck accepted with flying colors, see GoSpotCheck's video here.
Now if you still don't know what ALS is, heres your chance - GOOGLE IT