Good ol' marketing. It's usually the first thing to hit the chopping block when budgets are tight. Which is unfortunate, because it should be the last. Cutting back on marketing when your business is suffering makes about as much sense as taking an already dying fish out of water in hopes it will save its life. But I get it. It's expensive, it really is. So how much should businesses really be paying for marketing, and in this particular case, inbound marketing? Let's discover what to look for in an inbound marketing agency and how to invest your money wisely.
Need to know definition: Inbound marketing- Inbound marketing is a technique for drawing customers to products and services via content marketing, social media marketing and search engine optimization. (Wikipedia)
First things first, why is inbound marketing so expensive?
Let's look at it from an agency perspective. When you hire an inbound agency to do your marketing, you are getting a team of experts. This can consist of content experts, SEO experts, PPC experts, etc. Hiring that level of talent in-house can get costly, and fast. So, most of the cost comes from having the time and devotion of a team of people that are true experts in their field. Another thing to look at is the hard cost. It costs money to hire writers for your content and then graphic designers to make it come to life. Hard costs will also include software and tools that these agencies use.
But the value you are creating and getting from all of this is, well, invaluable. Marketing is an investment, and one very worth making. Marketing's sole purpose is to aid your business in growth, success, and the ability to stand out from the crowd. Isn't that worth investing in?
Now for the good stuff, how much should you be investing in inbound marketing?
Let's break this down into each service you will receive. Take note, these are middle of the road costs for most of these services. Your situation can make prices vary greatly, and a consultation and audit with a reputable marketing agency can help you better determine where you will fall price wise.
Strategy
This can all depend on the length of time. Most agencies will charge per month, but some will charge by quarter, year, etc. Typically for strategy and marketing plans, you can expect to pay $2k-$7k or more. This is for high quality strategies and includes the months of research and in-person meetings it takes to develop a customized strategy for your business.
Content
Content can include blogging, premium offers such as eBooks or Infographics, website content, CTAs, social media content, emails, and more. A high quality blog post will run you $120+ per post. Ebooks and other premium content can start at $300+. So depending on how many of these activities you are engaging in on a monthly basis, you can plan on investing $1k into content on average.
SEO
Securing a good SEO strategy and execution will run you no less than $700 per month. Depending on the size of your website and how much work needs to be done on it, SEO can run upwards of $5k a month. Yes, this is expensive, but the true cost of doing this incorrectly will be way more in the long run. Black hat SEO tactics can severely hurt your business and even get your website blacklisted from the Internet!
PPC
Most of our inbound partners are also participating in paid search. Depending on the agency and fee structure, and ad spend, you can plan on spending $1k+ or a certain percentage of ad spend on PPC management. At AdVision we use the percentage of ad spend fee structure. Our percentages range from 15-25% depending on your spend. As you spend more on ads, your percentage will decrease.
Social Media
Social media can sometimes be lumped in with PPC management. But if it is not, in an agency setting, social media management can range from $300-$3k per month. You can expect to pay $4k plus per month for hiring a social media manager in-house.
Software
We must not forgot about the tools and software used to execute your marketing plan. Depending on how you want to implement and execute your marketing campaigns, you may want to use a software like HubSpot, which is what we use being a HubSpot partner, or Marketo that offer everything you need in one place. You can also go out and find separate software for each specific task you are trying to do. Like Mailchimp for email and so on. This obviously affects the amount of money you are spending here, but for some baselines, HubSpot Basic starts at $200 per month, while pro will cost about $800 per month. Mailchimp starts with a free plan and goes up to $199 for their pro-marketing plan. And that is just for email campaigns. So weigh the pros and cons of each platform before taking the leap.
Fun fact: 54% more leads come from inbound than traditional outbound marketing AND average cost per lead drops 80% after 5 months of consistent inbound marketing. (Oracle and State of Inbound)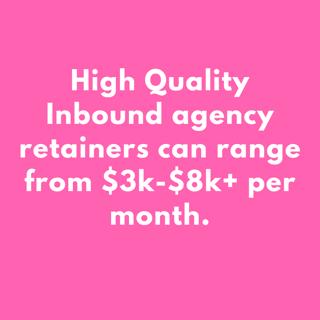 In general, small businesses making under $5 million in revenue per year should be spending 7-8% of their total revenue on marketing and that percentage will decrease as revenue grows (U.S. Small Business Administration). This all may look intimidating, but most agencies will work with you and your budget and grow with you in time. A good agency will determine what is right for you now and not give you a "one size fits all" approach. Also, by having one agency provide all of these services, you can save a lot of money as most i
nbound agency retainers range from $3k-$8k+ per month.
The more you spend, the more time and services you get from the agency.
Use this as an informative guide and don't be afraid to ask the hard questions when you are shopping around for a marketing team or agency. This will ensure you are getting the highest quality work for the price you are paying. To find out more about AdVision and our inbound marketing services, contact us now! Happy marketing.
Post by Lindsey Holliday
October 10, 2017