Imagine this: you have just spent weeks (or months) crafting a killer piece of content to use in your marketing efforts. Let's say it's an eBook, infographic, slideshow, or some type of report, which are some of the most common types of content we as marketers tend to create for inbound campaigns. You've most likely worked with several other people along the way—writers, designers, or any combination of your team members. Now it's time to launch the campaign! You blast it out to a segmented list, promote the sh*t out of it on social media, and boom—it's live. But…now what?

Other than tracking clicks, opens, shares, and potential leads that you may have gotten from that content, there is no way in knowing how valuable it was to the people who saw it. And even when those statistics all look positive, how do you know that someone will remember you tomorrow after clicking a quick "share" on Facebook? Let's be honest—your content is most likely not groundbreaking (sorry). Plus, most online users don't even read more than 60% of an article.
What We Can Do Better
There is, in fact, a better route to be taken. A route that proves to be much more engaging and useful to the user, which is really our goal here, isn't it? We don't just create content for the sole purpose of creating content. If what we give to the user helps her out somehow, is fun for her to experience, and maybe makes her a customer of ours, we have succeeded. The route I'm talking about is creating interactive content—quizzes, contests, interactive whitepapers, calculators, or whatever else you can dream up that the user interacts with in an active way.
In the sake of transparency, I'm writing this post as we at AdVision have discussed how vital interactive content must be in the future of our digital marketing strategy for our partners. There's simply too much noise in the digital airwaves now to continue creating run-of-the-mill content that the user doesn't get to play a role in somehow. SnapApp reports that 70% of marketers are creating more content today than they were a year ago. It's becoming a crowded space. The marketing adage of "content is king" should be amended—engaging content is king.
How and When We Should Use Interactive Content
Interactive content comes in many different forms. It's up to the creator or marketer to be creative and think of a format that creates a two-way dialogue. There are, however, a few basic starting points that can serve as a foundation:
Assessments: those pointless-but-oh-so-addictive BuzzFeed pages that place us in a persona group based on a few questions. For some reason, as humans, we NEED to know which Disney character we are most like based on our initials. (Case in point: I just did this assessment because why not? I got Rapunzel.)
Surveys/Polls: a way to create a conversation between you and the user. A poll or survey is usually in the form of a questionnaire with no right or wrong answers—the point is to gather opinions or feedback. As this feedback can also be valuable for you as a marketer, surveys are a great option for getting into interactive content. Good design and simplicity are both key.
Quizzes: similar to assessments, but instead give the user a score based on their correct or incorrect answers. A quick real-life, relevant example: a brewery posting an online quiz over Facebook to test their fans' knowledge on how well they know their different kinds of beers. An added bonus is to capture the lead at completion of the quiz.
Calculators: a simple, smart format of showing users some kind of concrete answer—usually a number. Calculators provide precise data to the user, such as the potential profitability of a new tool he's interested in (ROI calculators) or how long it might take him to pay off his student loans (loan calculators). They ask very little of the user but offer a lot in valuable information.
Contests: because who doesn't love free stuff? Contests come in all shapes and sizes, but some of the most engaging ones involve user-generated content (send a selfie, create a caption, etc.). On the most basic end of the spectrum, host—or sponsor—a giveaway. I'm subscribed to tons of brand newsletters in the outdoor/travel/lifestyle space, and the number of giveaway emails I get is astounding. Here is just one example from Outside Magazine and Tahoe-Truckee: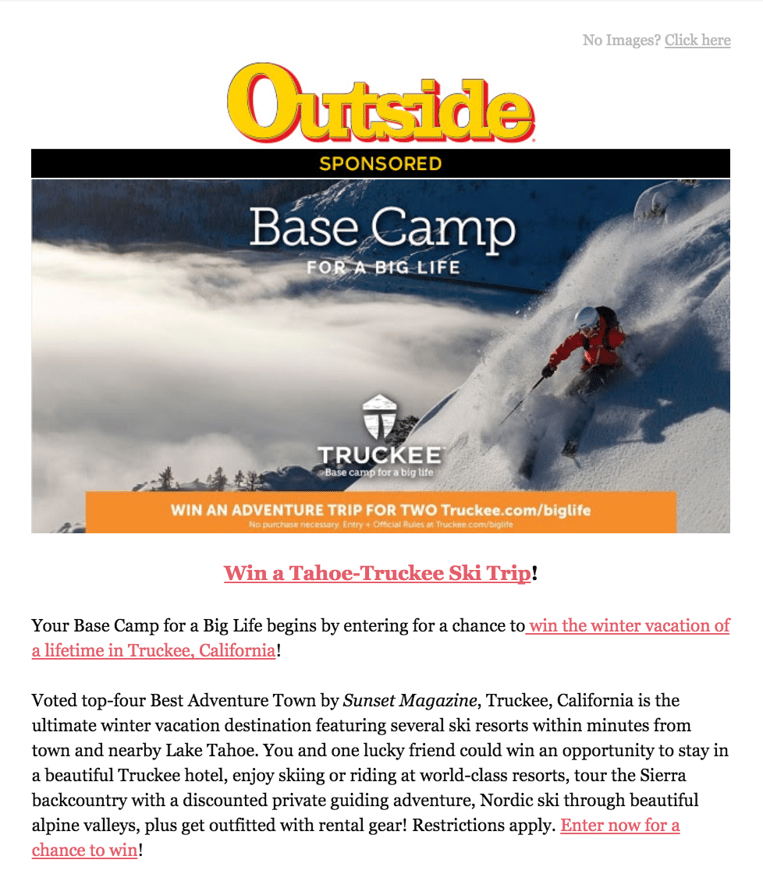 Shamelessly, I entered this one. I enter almost every contest or giveaway I get via email that sounds remotely interesting (if you don't try, how will you win?). But, from a marketing standpoint for Tahoe-Truckee, even if I don't win, I've been engaged with their brand and toyed with the idea in my head of going to ski there. In promoting this vacation giveaway, they've created a conversation with many people (who they know are interested via Outside Magazine) and gotten that much closer to making them customers. It's fun and it's targeted to the right people. Neil Patel's thoughts on using contests appropriately sum this up perfectly:
"Don't give away a free iPad, just because every user would love to win one. Otherwise, you'll attract a lot of participants that aren't a good fit with your brand. It's not about getting more sign ups. Instead, you want to reach your ideal target customers with the buzz generated through the contest."
Things to Consider As We Embrace Interactivity
While all of the above is fresh and exciting for your marketing strategy (and I hope I've convinced you that it is a digital marketing trend that's here to stay!), there are a few things to keep in mind as we move forward with interactive content. First, the different formats I mentioned above will most likely require more (and/or different) resources. Instead of needing a long-form writer and a designer to create a piece of content, now you might need a copywriter, a developer, and a social media strategist. Does it cost more? Is it worth it? Typically, most companies who have taken the interactive route will say yes, it is worth it—especially considering the average lead conversion rate is at least 40%.
Credit: SnapApp
The second caveat is that not everything is meant to be interactive. Certain types of reports and whitepapers don't necessitate a fancy interactive element, particularly when there's a lot of information to share. That being said, an easy and subtle way to make one of those whitepapers more appealing to the user is to add simple navigation buttons that allows the user to click through as he or she wishes.
The Bottom Line: Engage the User and Be Creative Doing It
Interactive content is bound for glory. Don't feel like you have to implement it in every single campaign, but start small and soon your once-static content can become a conversion machine. Try to look at what you're creating through fresh eyes, and remember that the experience you're providing for the user is top priority. By building a relationship with your audience, you'll build up an arsenal of awesome content, tons of insights and most likely have a little more fun doing it.
Interested in taking the next step with inbound marketing? Let's chat about how we can incorporate interactive content into your digital marketing strategy.
Post by Meredith Cook
October 23, 2017